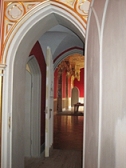 Walpole's Strawberry Hill House
In March 2011 I was a guest at nearby Strawberry Hill House during its restoration. At the time I was a keen photographer and was thrilled when I was offered the opportunity to roam the house at will.
Strawberry Hill House was the project of Horace Walpole (1717-1797) the son of our first Prime Minister. Known as a man of letters and author of the Gothic novel, The Castle of Oranto, Walpole moved to Twickenham in 1747 and spent many years enlarging his estate and transforming his villa into a Gothic castle.
The Gothic novel was characterised by mystery, suspense and strange happenings. As the day wore on and darkness spread over unlit rooms I started to feel a little nervous. The building was new to me so at times I thought I had lost my way and had to tread carefully, especially where floor boards had been removed! However, it was certainly a fantastic opportunity and one I shall not forget.
During the restoration work, the exterior render was replaced to bring the building back to its original appearance and a number of rooms on the ground and first floors underwent extensive restoration.
Walpole was inspired by the architecture of Gothic style religious buildings; arches are used throughout the building for doorways, windows and bookcases.
The collection of painted Renaissance glass, which can be seen all over the house, has been restored through the efforts of those engaged in glass historical research and glass conservation. In fact, a whole host of professional restorers have been involved in transforming Strawberry Hill House including surveyors, restoration architects, guilders, upholsterers and fabric weavers.
The £9 million repair was undertaken by the Strawberry Hill Trust and supported by the Heritage Lottery Fund though, of course, the upkeep of such a building is formidable. In 2012 and 2013, together with Berkley Driscoll, a fellow trustee of a small charity, I helped to raise considerable funds for Strawberry Hill House, supporting the Rugby Football Union (RFU), in the organization of the Strawberry Hill Music and Fun Day.
Following the very successful 2013 Music Day the RFU decided, for staffing reasons, that they had to completely withdraw from all organisation of the event and Berkley and I were asked to take over the music and fun day. If we had not taken on the task as organisers, this charitable event - which can expect to entertain up to sixteen thousand people - would not have continued.
The 2014 music and fun day raised a substantial amount of money for the maintenance of Strawberry Hill House and following the event the Director said "it was great to see more families on site with all the impact that has on the appearance of the event and the enjoyable nature of the day". Finally, we organised the 2015 event, this time raising another substantial amount for Strawberry Hill House even though there was rain on the day.
Of course, local people will know that the Music and Fun Day was not our only event at Strawberry Hill House. In September 2012 we launched our idea for a Twickenham Film Festival at an open air showing of the UK premiere of a British comedy Borrowed Time (starring Phil Davis, Theo Barklem-Biggs, Juliet Oldfield and Warren Brown) with Horace Walpole's Gothic castle as the backdrop. Stars of the film who attended the outdoor cinema were rewarded by a truly theatrical experience themselves with a tour of Strawberry Hill House at night.
At the request of the Director of Strawberry Hill House in 2014 and 2015 Berkley and I organised festive outdoor ice rinks at Strawberry Hill House, to promote Walpole's Gothic castle to a wider audience. Strawberry Hill House was promoted daily for a number of months each season, on social media, websites, radio, television news, online video and in magazine and newspaper articles. Many people who had never heard of Strawberry Hill House saw it for the first time when they came to skate.
Looking back on my first visit to Strawberry Hill House in March 2011 I would not have imagined playing such a large part in supporting Strawberry Hill House, but I am sure that Horace Walpole would have been pleased to know that because of our efforts so many people have shared his dream and we certainly enjoyed playing our part.
MY STRAWBERRY HILL HOUSE:

Local Area, Prado's Grapes, Gifford Lodge, Pope's Legacy, Grand Neighbours in Richmond House
.
Photograph World InfoZone
Page Two