Menu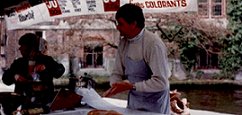 Partners are from all over the world including Australia, Azerbaijan, China, Italy, Israel, Japan, Netherlands, Philippines, Russia, Singapore, South Africa, Spain, Sri Lanka, Taiwan, Ukraine, United Kingdom, United States of America and Uzbekistan.
Hallo from Belgium
Email from Meulebeke, Belgium

Thanks for your interesting document made by the kids. I gave it to our a teacher of religion and he will study it with the pupils during the lessons. He will compare it with our Christmas.
The pupils studied your document during the religion class with the help of the teacher.
The pupils start learning English when they are 14 years old. ... they will make something for your pupils in English!
Email from a teacher in Belgium
Here I send you the first results ... a document made by the pupils for you. It was not easy, because they don't learn/speak English!
This is our website: http://www.sintamandusmeulebeke.be/
Try our new game! Speel ons nieuw spel!
and our Virtual Zoo!
Read the WIZ information on BELGIUM
Find out what is happening in the World. Read the latest news in NEWSLINK
Return to the Menu