Menu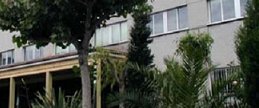 Hola from Spain
Email from a teacher in Spain
... We have a month before the summer holidays but we will try to send you some information about us, our school, our city ... next school year we can exchange much more.
A Coruņa, Galicia (Our Region)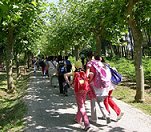 Coruņa, our city, is on a small and beautiful peninsula. It is sometimes called the "city of glass" as there are some beautiful Modernist buldings with windows designed to make the most of the light and protect the houses from the Atlantic winds. We face the Atlantic Ocean and the Cantabric Sea.
The Tower of Hercules is the symbol of A Coruņa and the oldest working lighthouse in Europe. You can see the Tower of Hercules from the coast.
Pablo Picasso, the famous artist, lived in our city and painted several landscapes.
Email About Our School
Our school is a public school for boys and girls. It has twenty-two classrooms, a laboratory, two computer rooms, a library and a multimedia classroom. There is a big playground with football and basketball fields and a sports centre.
We go to school from Monday to Friday. School starts at nine o'clock in the morning, and ends at two o'clock in the afternoon. Some students have lunch at school. Then we have extra activities: art and crafts, theatre, jazz and traditional dance, judo and karate, skating, gymnastics, tennis ...
There is a small garden too, with beautiful trees: a chestnut tree, elms, maples, cypresses, willows, apple trees, palms and a tangerine tree. There are flowers (oleanders, hydrangeas, roses) and herbs (lavender, rosemary, mint) ...
Sometimes we make school visits to museums. Our favourite museums are the scientific ones: the House of Sciences, Domus or House of Man and The Aquarium Finisterrae.
Information about St John's Eve
Saint John's Eve is celebrated in Galicia on Midsummer's Eve (the Summer Solstice). The Midsummer Solstice is when the sun is at its highest point in the sky making it the longest day of the year.
This holiday is celebrated with bonfires and decking the house with plants such as Saint John's wort. People gather around the bonfires. They drink wine and eat sardiņas with bread and cachelos (potatoes cooked in their skins).
Galician families leave a bucket of water with a mixture of roses and herbs outside the house. The next morning all the family washes with that water. This water is believed to have special benefits for the skin and the eyes.
Read the WIZ information on SPAIN
Find out what is happening in the World. Read the latest news in NEWSLINK
Return to the Menu