A Weekend in St PetersburgFriday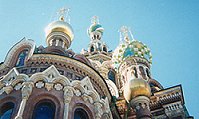 We caught the 7.30 train from Helsinki to St Petersburg, the train was very comfortable, much more leg room than an airplane and quite empty, so we could spread out and have two seats each. We were too excited to sleep though so we munched our breakfast and watched out of the window as we sped past mile after mile of beautiful dark green Finnish forest. The journey took about six hours but about a third of this (or so it felt) was spent stationary in a Russian train station whilst we waited for passport control to check everyone's passports. I would advise anyone travelling this route to ensure that they have the correct documentation as those that did not had to take a taxi back to Helsinki. Anyway, we then travelled past miles and miles of beautiful Russian forests and arrived in St Petersburg shortly after lunch.
As we left the train I was struck by the noise and bustle. Techno music blared from a food stall and people were milling about all over the place. Everything was written in Russian and as they have a different alphabet I could not recognize a thing. Fortunately, my remarkably clever travelling companion spoke Russian so she led the way. Even crossing the road was an ordeal, drivers seemed to be making up the rules as they went along and pedestrians had to dodge the fast flowing traffic. I noted the large number of Skodas. So we struggled to our hotel which we were delighted to find was nearby. We were staying at the St Petersburg hotel, in the renovated wing. Our rooms were lovely and spotlessly clean. We dumped our bags and headed off out.
We decided to start by walking from our hotel across the Neva River towards the Nevsky Prospect, which is the main shopping street. At about 20 degrees, it was much warmer than we had expected and we did not need the warm jumpers we had lugged from
Finland
. St Petersburg covers over forty islands on the Neva River where it joins the Gulf of Finland. The islands are connected by bridges and in some places the river is very wide but in others small bridges cross small canals. The city is known as the 'Venice of the North' but quite honestly, I don't think that does it justice. The Neva River is huge at its widest parts, a vast expanse of sparkly water. On days like the ones that we were lucky enough to have the water is a deep sea blue and it glitters fantastically. It is absolutely beautiful.
We walked past the Peter and Paul Fortress and the Artillery Museum and on towards the southern bank of the Neva. As we crossed the river the Hermitage came into view, the Hermitage is one of the most famous museums in the world. An indescribably enormous collection of art is housed in a number of buildings. From the river the green and white façade of the Hermitage looks very grand indeed. But we kept walking, as that was to be Saturday's visit.
We walked down Nevsky Prospect, stopping in the Literary Café for tea and ice cream. In Russia tea is drunk with no milk, instead it comes with either honey or jam and ice cream is a specialty. We carried on down the street until we reached the Kazan Cathedral. Just under a hundred Corinthian columns are arranged in four rows forming an arc facing Nevsky Prospect. The Cathedral was commissioned by Paul I and took over ten years to build, the enormous dome and massive pink granite columns inside make it well worth a look. We carried on walking past canals and grand architecture, eventually reaching the spectacular Church on Spilled Blood. The church was built (1883-1907) on the spot where the Russian Emperor Alexander II was killed in 1881. The church is spectacular, it is a beautiful variety of colours, lots of green, blue and gold and the giant iced-gem domes are gorgeous. The detail is incredible as you get up close, all jewels and mosaics. Inside is breath-taking. From floor to towering ceiling stretches one of the world's largest mosaic collections. Russian blue and gold jump out from the walls, each of which depict different New Testament stories.
For dinner we went to '1913 God'. So-called because apparently 1913 was Russia's best year, when it celebrated 300 years of Romanov rule. We started with borsch, a traditional sweet and sour beetroot soup. I must admit to being a little dubious about beetroot soup but it was actually delicious. To follow we had a fish dish that was made with sour cream, a very popular Russian ingredient. Too full for pudding, we made do with honey and pepper vodka shots. The service was excellent and it was very reasonably priced, even on our student budgets.
Saturday
Saturday was our day that we were dedicating to the Hermitage. Not a fan of all things cultured I was somewhat reticent to spend the entire day in a museum, however I was to be swiftly won over, becoming a life-long culture-vulture. We enjoyed a magnificent breakfast in our hotel. We had good coffee, rye bread toast, baby scones and fruit salad. There were also lots of meats, cheese, fish and many other things to tempt those with stronger morning stomachs.
The Hermitage was a superlative experience. To start with, as students we got in free - excellent! The Hermitage is actually a collection of interconnecting buildings and firstly, we went to the Winter Palace. The palace was built for Tsarina Elizabeth between 1754-62. Starting with Rastrelli's Jordan staircase and progressing through room after room we were confronted by unbelievable opulence. It was easy to see why there was a revolution. It seemed remarkable that all this wealth had belonged to one family. There were chandeliers upon chandeliers, golden ceilings, gold furniture, jewels, ornaments, thrones - in silver and gold, marble columns and floors and so on. The large Hermitage was built by Catherine the Great to house her art collection. Catherine's collection included over two and a half thousand paintings, thousands of carved gems, around ten thousand drawings and rooms of silver and porcelain ornaments. The collection was added to after the revolution making it one of the largest art collections in the world. A day is nowhere near enough time to see any more than a glimpse of the art housed here. In fact, it would take over a decade to just glance at each one of the exhibits. The collections include classical art, oriental art, Russian art, Italian and Spanish art, nineteenth and twentieth century European art. There are rooms of Matisse, loads of Renoir, plenty from da Vinci, ample from Picasso, Monet, Gaugin, Kandinsky and so the list goes on. As an example of the scale of this place and the grandiosity of its exhibits, the Kolyvan Vase, made of jasper, is five metres long and three metres wide. It took over one hundred and fifty horses to pull the vase to the port of Barnaul for its journey to St Petersburg and the journey had to be undertaken in winter so that the vase could be pulled over the frozen river as it was thought that it might break the bridges. The walls of the Hermitage were built around this enormous construction.
We ventured out for a quick lunch; we went to the Literary Café as it was close by. I had traditional beef stroganov, beef, onions, mushroom and sour cream and my friend went for borsch.
In the evening we took a boat trip along the river. It was sunset and the golden domes of St Isaac's, the Church of the Spilled Blood and the Admiralty glinted in the last of the sunlight. We saw grey communist monoliths, a stark contrast to the beautiful buildings lining the embankment in the centre of St Petersburg.
For dinner we went to The Idiot café, once owned by Dostoyevsky himself. This is an excellent café, the service is super friendly and there are lots of board games, magazines and eclectic junk. We had a free shot of vodka and then Russian champagne, which was very good (£1.50 a glass!) and delicious blinis with caviar to start with. I had pelmeny, Siberian dumplings with sour cream and my companion had golubtsy, minced meat and rice in cabbage leaves, served with a tomato sauce. Both were very good. We were amused by the quantities of vodka that the café owners were encouraging customers to drink. For example, one of the starters on the menu was a 'Gentleman's Kit' that came in small and large. The large kit contained various things including caviar and blinis and also 500mls of vodka. As a starter!
We had really wanted to go to the Astoria hotel for tea on Sunday as we thought that it would be a cheap(er) way to experience some St Petersburg luxury first hand. However, there was so much to see and do in St Petersburg that we did not have the time. We thought that we might be able to fit in a post-theatre dinner so we popped in to look at the menu on the way home. It turned out that we were too far away in the end but the hotel did look fantastic and tea at the Astoria is one of the things that I would like to experience if I return to St Petersburg.
Sunday
Sunday was another busy day, we had chosen to visit Peterhof, Peter the Great's summer residence, and we had booked tickets for the ballet in the evening. We dragged ourselves from bed, thinking only of scones and strong coffee. We prepared sandwiches at breakfast and took them with us. I chose ham and cheese, which was fine, but my more adventurous friend opted for herrings in tomato sauce, which smelled lovely by lunchtime when they were all spread around her bag.
Peterhof is on the Baltic coast some 30 kilometers from St Petersburg. The guidebooks advised that we approached by boat and as time was short we took the hydrofoil. The hydrofoil was a quick but pricey mode of transport and I would advise people to seek other ways of getting there. If you are the adventurous type you could try the bus (see below) that cost 35 roubles for two of us (less than $1) compared with about $7 each for a one-way trip on the hydrofoil.
The first building that you come across is the Great Palace, but the first things you notice are the incredible fountains. The Grand Cascade is a series of fountains, golden statues and water jets. The sight of this gilded furor gleaming in the sunlight is spectacular, even if such flamboyance is not your personal preference. There are hundreds of fountains all over the perfectly manicured gardens of Peterhof: there is a Pyramid fountain; a Chequerboard fountain with an enormous dragon, and many others including hidden 'trick' fountains that squirt unsuspecting tourists. The palace is huge and grand. After a while I found it so overwhelmingly extravagant that I started to feel like I was in a theme park. The amount of time and money that must have gone into building such a place is incomprehensible - rooms that are gold from floor to ceiling, space for parties, functions, in fact, one and a half thousand acres of space in total. The gardens are beautiful; it is lovely to stroll along the tree-lined avenues and stare out across the sea from the secluded bay. There were also many Russian families enjoying the gardens, picnicing and so on whilst a band played up by the palace. The Great Palace was started by Peter the Great but was really developed by his daughter, Elizabeth II. It is incredible and well worth the small entrance fee (a continuing theme throughout the day - every different building had to be paid for separately - all small fees but we had to be careful on our student budgets). It is another example of baroque splendor. Many of the rooms have original furniture and ornaments, for example, tables set for dinner.
There is also the Monplasir Palace to visit and the contrasting tastes of Peter and his daughter are evident here (you will have to pay twice to see both!). Peter was a man of simple styles that were a million miles from the outrageous tastes of Elizabeth, as seen in the Catharine Wing, built for Tsarina Elizabeth by Rastrelli. Apparently, Peter preferred to reside at Monplasir rather than the palace, rumour has it that he was a devoted drinker who liked his guests to start the day with a mug of brandy rather than coffee.
The Hermitage is a small building on the shore of the gulf. Peter commissioned the work but died before work was completed in 1725. The simple building has one room downstairs and one room upstairs. The upstairs is a light and airy dining room that looks straight out to sea. Guests could choose anything that they could think of for dinner and servants would send food up by a mechanical device. There is also the Marly Palace and Cottage Palace to visit but we did not have time to fit them in.
We guessed that the strong winds would stop the hydrofoil from running and thought to save our pennies by catching the bus. The bus was jammed full and we had to squash in. The Russians seemed to find us quite amusing but I'm not sure why. We did not know where to get the bus from either and no one seemed to speak any English (or understand our Russian) so we ended up on the outskirts of town and from there we took the metro. The Russian metro was built in the communist era and was designed by the best architects of the time and stations were filled with sculptures, mosaics and marble.
We went to our hotel and changed into some smart clothes, we then hailed a taxi and made it to the ballet just as it started. We went to see Swan Lake in the gorgeous Alexandriinsky Theatre. Our tickets cost about $30 each and were well worth the money. The theatre was quite small and we sat in a box near the front with a Russian lady who had saved up and travelled for hours from the mountains to see the performance. The Russians are passionate about the ballet and it certainly showed, the costumes were superbly detailed and the set was lovingly constructed. The ballet itself was simply perfect and we even had chocolates and champagne (£2 a glass) in the interval.
Finally we went to 'Joy' a quiet, inexpensive restaurant nearby for some diner. We started (again) with caviar and blinis, I had black caviar and my friend had red. I then had solyanka, a spicy meat and tomato soup, and my companion had shashlyk, a Russian lamb kebab. All the food was excellent and we were disappointed that we could not manage any dessert as it was our last night, before returning to
Helsinki
, and we hadn't tried any traditional puddings except ice cream. (2002)
News is available from
The St Petersburg Times
.
Visit the WIZ information on Russia. Read news from Russia in Newslink