Menu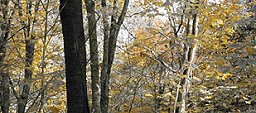 Hi from CANADA
"Canada is beautiful with many mountains, and many trees and forests." ... "We like horseback riding."
"We are on a long weekend to celebrate Thanksgiving right now. It is celebrated differently in every household and not at all in some. Usually we have turkey or ham for dinner to represent the harvest season. Pumpkin or apple pie is common for dessert because there are lots of apples and pumpkins ready right now. It's more of a harvest celebration in Canada, rather than a time to celebrate the Pilgrims as it is in the United States."
Emails from a school in Ontario

"We live in Kingston, a city in the province of Ontario. The capital of Canada is Ottawa, although Kingston was the first capital of Canada. They changed the capital because we are so close to the United States. Kingston is one of the most interesting places in Canada. We have our own hockey team, the Kingston Frontenacs. They say some parts of Kingston, mainly downtown, are haunted. Some tourists go on haunted walking tours."
"Just like you, we live near big bodies of water too. Kingston is located on Lake Ontario. Toronto and Ottawa are the biggest cities near us. They have millions of people living in them. Kingston has a population of 120,000."
"Our school is called Welborne Avenue Public School. We study math, reading, writing, spelling and our second language is French. In math, we have been studying area and perimeter. In writing, we have been learning about writing personal and business letters. In gym, we finished basketball and we are now learning how to do the 'Cha Cha Slide', which is a dance. In social studies, we are learning about the aboriginals of Canada (the first people here)."

"My class' favourite foods are chicken, garlic bread, Chinese food, spaghetti, venison (deer meat), pizza. We grow a lot of different fruits and vegetables in Ontario including apples, carrots, green beans and lettuce. Strawberries are very popular and I like to pick them in the summer. One of our national foods is maple syrup which comes from the sap of maple trees. You can put it on pancakes, waffles and french toast."
"Some things that people enjoying doing in our class are watching TV, playing sports like baseball, basketball, hockey and snowboarding. Some students also like rock climbing, skating, dancing and swimming. We also like to read books, build models and hang out with friends."
"My hobbies are playing ice hockey and I play basketball on our school team. I like to talk to my friends on MSN and listen to music on the border 102.7, the local radio station. I also spend time at the mall shopping with my best friends."
"Today is a special day for all Canadians because it's Groundhog Day (February 2). Groundhog Day is when a groundhog comes out of the ground and if he sees his shadow there are six more weeks of winter but if he doesn't see his shadow there are only two more weeks of winter. Which is of course ridiculous. ... I don't think groundhogs can change the weather!"
Read the WIZ information on CANADA
Find out what is happening in the World. Read the latest news in NEWSLINK
Return to the Menu