Menu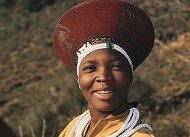 Molo from SOUTH AFRICA
Emails from students in Grahamstown
"How are you? I hope you are fine. I am fine too at Grahamstown. I live at alokishini (Township). At alokishini, we have houses that are called
amatyotyombe
so we live in a settled place.
Grahamstown is not a scary place as many people think. It's like all the counties in the world. We have games, many friends, swimming pools and many other places of enjoyment."
"In South Africa we like rugby and soccer." ... "We have a powerful rugby team at our school and we have a good record."
"Our school has the most popular team of rugby in Grahamstown, they won First National Bank sponsorship. The school's soccer team is not strong like rugby but these two sports and cricket are popular in South Africa."
Our interests
I like watching soapies, communicating with people, music, going out with friends and tennis and I'm the only girl in this group.
I enjoy eating African salad, watching TV (cartoons, comedies, movies, educational programmes), reading comics and Sci-fi, meeting new friends, music (R&B, Ballads, House, Hip-Hop and Kwaito) and using computers.
My favourite pet is Blackie (dog), playing mind games, eating bread.
Reading romantic books, playing cricket, searching for my future resolutions.
I love TV, doing floor dance, doing projects, hunting animals, and joking.
I like playing soccer, making jokes, listening to music, watching TV movies.
I like listening to music, reading fictions, and surfing the internet.
Eating pap and meat, playing music, using computer, composing ring tones.
Bye hope to hear from you.
Email from students in South Africa
We are really happy to hear from you!! We are girls aged 14 and 16. We loved your letter very much. Our hobbies are singing, dancing, watching TV, shopping and sometimes cooking. We love tennis but we do not play it.
Our favourite food is African salad, samp with beans and steak. We have a group called
the Marvelous gals
. PS: we know how to write "girls" we just like to write it in slang.
Email from a student at Nathaniel Nyaluza High School
I wish to write about our March holiday. We have a festival called the Science Festival (SciFest), it happens at Settlers Monument, Rhodes University and Museums. It began 17 March. All people enjoy it. Last year I won a Sasol Science Festival t-shirt.
South Africa's Independence Day from the Discussion Board
In South Africa we had the first general elections in 1994, when all black people voted for the first time. Now we finish 10 years of democracy. In our city they voted African National Congress and ANC got 69% votes. Others voted for a Democratic Allaince, others they are crying for ANC, to give people works and jobs. Many people are unemployed.
And also a Government promised more jobs, houses, clean water and drugs for AIDS but these drugs do not cure AIDS.
Before 1994 there were only male whites in the apartheid government, and now we have many men and women, blacks and a few whites in the government. The present government cares for the poor people.
On 27 April peaceful celebrations were everywhere in our country and it was a holiday. (Nceba and Lunga and Grade 9's)
Viva South Africa. Viva.
South Africa won the 2010 soccer bid (football world cup), it was such an emotional day, everybody black to white were celebrating together. At least it brings a haven of economic activities for the next 6 years that will benefit all. (
Joy
)
... Everyone here (and we mean everybody) including the media was ecstatic that South Africa won the soccer bid for 2010.
We are full of joy that the World Cup soccer is going to be here in South Africa. Everybody is happy and the newspapers wrote a lot about it.
RSA (South Africa) is investing a lot of money to develop under 19s from all over the country so that in 2010 we will have a strong team that will win the World Cup soccer. Our national soccer team is called Bafana Bafana.
The School Holiday
We also end the semester on 30th June for one month. I wish I could be in hot, hot weather. It is unusually rainy this winter and C-O-L-D!
Email about the Nathaniel Nyaluza School Website
It has been an amazing experience working with my class together with Samkelo L, our old boy now studying computer science at the unversity of Western Cape, to put this site together. Their limits were stretched beyond their levels. We have a great support team from Rhodes University that has supported us through out our ICT progress at Nathaniel Nyaluza High School.
Read the WIZ information on SOUTH AFRICA
Find out what is happening in the World. Read the latest news in NEWSLINK
Return to the Menu
Page One