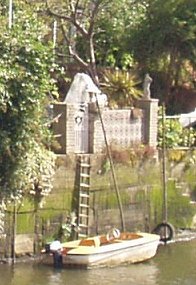 River Praise
Barrie Armstrong
God's grebe parts the river
and diving sings:
"Trust in the Lord,
the giver of all good things!"
"Be still", sighs the heron,
in the holy willow tree.
The cormorant lifts its wings
in worship: "Taste and See!"
Seagulls speak God's mercy
into every wind:
"Seek, seek, seek,
and you shall find!"
The kingfisher flies love's banner
in this celebration:
a flash of the heart's fire,
at Christ's coronation!
Barrie Armstrong moved to Eel Pie Island with his wife, Val, in 1995. He says that there is friendliness on the island and the craftsmen in the boatyard will always help with something practical; this sense of community is unusual these days. Christianity is very important to Barrie who belongs to St Stephen's Church in East Twickenham and is a member of a home group on the island.
St Wilfrid`s Chapel

Out of the wind.
Into the stillness.

Whose hand plucked this silence
out of the storm.
Out of the drowning sea.
Out of the world`s abuse.
And planted it here?

The door opened its arms
in welcome. The matting,
woven like breath caught in surprised
delight, laid in awe at the Saviour`s feet.

For his blessing.
For his still, small voice,
more passionate than sea or storm or man`s
imagining.

Outside the trees roared to be heard.
Inside silence, and his word.
JESUS IS LIVIN`

You`re the bee`s knees!

Son of a gun!

You take the cake!

You`re the ultimate one!

But ain`t nobody don`t need to repent, man!

No, ain`t nobody!


Your qualifications leave us all behind.

Your body`s sensational and so is your mind.

But ain`t nobody don`t need to repent, man!

No, ain`t nobody!


You`re the Tops!

You`re a winner!

You outclass us!

You`re a sinner on the road to Damascus!

`Cos, there ain`t nobody don`t need to repent, man!

No, ain`t nobody,

and no time like the present.

You`ll be forgiven.

Jesus is livin`.

Just waitin` for you to repent, man!
Eel Pie Island Home Page